GLGR News
Keep up to date on Great Lakes Gun Rights news and fights, and see how we are working to protect your gun rights!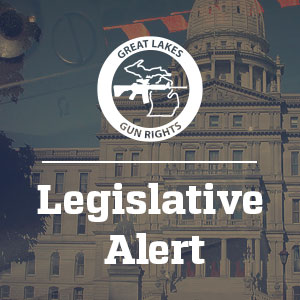 The amount of Michigan Democrats I saw calling for gun control BEFORE all of the facts have come out from last night's shooting at MSU is shameful. It appears all too many of them have been waiting...
Trending | GLGR Social Media
Senate Democrats continued their highly partisan, anti-gun assault on Michigan gun owners Thursday.Nearly all 11 Senate Bills (SB 76-86) were passed on party-line votes, sending them to the Michigan State House for consideration.Republicans held together and voted...
Late last night the Michigan House of Representatives advanced House Bills 4138, 4142 and 4143 which expands Michigan's draconian pistol purchase permit system to ALL firearms.It passed on a party line vote, with swing district Democrats like Nate Shannon, Jim Haadsma...
I just wanted to provide you with a quick update on what happened in Lansing this week. As you know, Democrats have started holding hearings on their gun control bills. Over in the House, they held hearings on HB 4127 and HB 4128 which would criminalize lawful carry...
Lansing, MI – Tomorrow, the House Elections Committee is holding a hearing on a pair of gun control bills which would prohibit law-abiding Michiganders from possessing or carrying a firearm within 100 feet of a polling place on election day. "Intentionally...
Michigan Democrats are charging ahead with their anti-gun agenda and we're ready to fight back on all fronts. I'm already rolling out hard-hitting ads, mail, e-mail and text messages -- urging pro-gun Michiganders to contact their lawmakers to oppose these radical...