GLGR News
Keep up to date on Great Lakes Gun Rights news and fights, and see how we are working to protect your gun rights!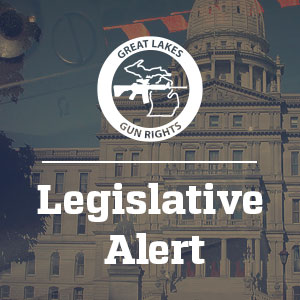 The Michigan House of Representatives just passed legislation to reduce the Concealed Pistol License fees by 50% (HB 4030 and HB 4498).
Trending | GLGR Social Media
You're more than likely in a government database if you own a pistol in Michigan. Michigan is one of only a handful of states requiring a government permission slip to purchase a pistol, serving as a de facto pistol registration scheme. And law-abiding gun owners in...
I just got home from Lansing and I wanted to provide you a quick update on what is happening in the fight for your gun rights at the Michigan Capitol. I drove there this morning to testify on House Bill 4003, sponsored by State Rep. Matt Hall (R-HD 63), which is a...
I'm sure you've seen the headlines already. Former Detroit Police Chief James Craig has officially announced he is joining the field of Republican candidates seeking to challenge Democrat Governor Gretchen Whitmer in her bid for reelection next year. His official...
If you're a law-abiding Michigander and you own a pistol, you're more than likely listed in a government database.
Who stands for your gun rights in the Special Primary Election for Michigan Senate District 28 taking place on August 3rd?