GLGR News
Keep up to date on Great Lakes Gun Rights news and fights, and see how we are working to protect your gun rights!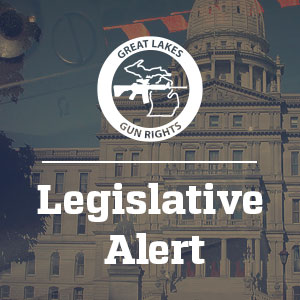 Dear Fellow Patriot, What are they doing? While Republicans in Ohio and Pennsylvania are advancing Constitutional Carry, Republican leadership in Lansing is stonewalling this popular pro-gun...
Trending | GLGR Social Media
End Gun Violence Michigan will promote numerous gun controls in the next two years Lansing, MI – A group named End Gun Violence Michigan has formed an exploratory committee to promote various forms of gun control, aiming to get them on the ballot during the...
Did you see the headlines yesterday?According to The Detroit News and other media outlets, gun grabbers are building an army to assault your gun rights on all fronts by forming a group called End Gun Violence Michigan.These unscrupulous anti-gun zealots are exploiting...
Look at this headline from MLive on Friday:  That's right.While other Republican-controlled Legislatures are passing Constitutional Carry, Michigan Republican Senate Majority Leader Mike Shirkey is holding hearings on "Red Flag" gun confiscation orders.It is shameful...
Sen. Mike Shirkey to hold hearings on "Red Flag" gun confiscation legislation while stonewalling pro-gun bills Lansing, MI – Republican Senate Leader Mike Shirkey has promised Senate Democrats that their "Red Flag" gun confiscation bill will soon receive a hearing in...
Capitol insiders are reporting that hearings on gun control could be starting up in Lansing as soon as lawmakers head back to Lansing in January.As you recall, Senate Majority Leader Mike Shirkey promised two years ago, on the day of the 2019 Second Amendment March,...