Handgun Registration Repeal Introduced in Lansing!
If you live in Michigan and own a handgun, your name is more than likely listed in a government database.
Michigan is one of only a handful of states that require a government-issued permit just to purchase a handgun. This doubles as a de facto form of registration.
Thankfully, pro-gun State Rep. Matt Maddock has introduced HB 5317-5319 with Steve Johnson (R-HD 72) and Shane Hernandez (R-83) with more than two dozen cosponsors to repeal Michigan's draconian handgun registration scheme. 
That's why I'm counting on you to sign your Repeal Handgun Registration Petition to your lawmakers today!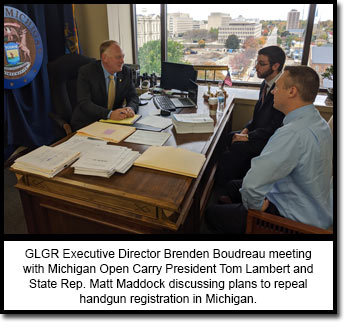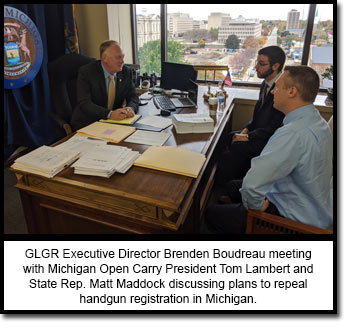 Michigan's handgun registration is a clear violation of both your Second Amendment rights and your right to privacy.
Only the most anti-gun states have some form of firearm registration on the books, meaning pro-gun Michiganders are currently suffering under gun control schemes more often seen in left-leaning coastal states.
Unfortunately, Michigan's handgun registration pre-dates similar schemes in New York and Hawaii; two states known for their hostility towards the Second Amendment.
And this draconian scheme leads to confusion for Michiganders since the system only keeps a record of qualifying handgun transactions rather than possession.
Yet government bureaucrats claim Michigan's registration requirement is necessary for fighting crime, somehow convincing themselves criminals will abide by the law.
But you and I both know criminals, by definition, do not follow the law.
Handgun registration can only apply to law-abiding citizens, and it creates an added burden to exercise their right to self-defense.
A complete repeal of Michigan's de facto registry hasn't advanced in Lansing since 2012, when it passed out of the House with bipartisan support but was gutted by the Senate.
Since then, support for a full repeal has grown in both chambers, meaning it is only a matter of time until you and I make this happen.
While the chances are slim on getting this repeal passed into law with Gretchen Whitmer as Governor, keeping up the fight is crucial.
Getting legislation introduced and pushing for a vote is the first step toward ultimately repealing this law.
Even if we lose the vote we will have the politicians on record.
And we know Governor Whitmer would surely veto the bill if it passes, but we must make sure she feels pressure for her support of this gun registration scheme.
Making her sweat over a possible repeal of handgun registration will be a huge victory for the grassroots.
But we will also know who in Lansing really stands for the Second Amendment and who is just paying lip service to your gun rights.
Just by getting a vote, we will expose every anti-gun politician in Lansing.
All too often we see politicians campaign as pro-gun, then turn their backs and vote against gun owners after they are elected.
A roll call vote to repeal handgun registration will force every legislator to take a stand publicly.
And you can bet that GLGR will remind gun owners how their legislators voted on gun rights when they are most susceptible to grassroots pressure — during election season.
If pro-gun activists like you apply enough pressure, we can force politicians to stand by their word and ultimately end Michigan's handgun registry once and for all.
That's why GLGR is calling on tens of thousands of Michiganders to mobilize a grassroots army to end this draconian policy.
However, repealing registration will take a lot of work, and mobilizing that many supporters won't come cheap.
Thank you for your support.
For Freedom,